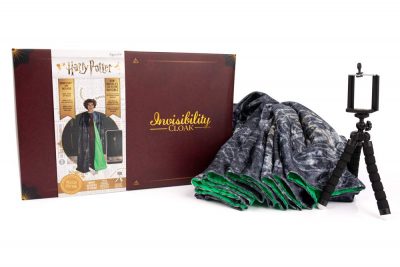 Set up in 60 seconds or less and with multiple ways to play! Create different backdrops, outdoors or in and save the images from the WOW! Stuff app to your tablet or smartphone camera roll. Amaze your family and friends as they view the photos or videos; they won't believe their eyes!
The Invisibility Cloak first made its appearance in Harry Potter and the Philosopher's Stone (Harry Potter and the Sorcerer's Stone in North America) and now you can appear to disappear just like Harry! Click here to snag this WOW! Stuff Collection Harry Potter Invisibility Cloak Deluxe Version for only $55.97.
Imagine being invisible? Imagine no more! This official Warner Bros. Invisibility cloak costume perfectly replicate the original cloak's magical effects!

Save your invisible scenes! Save photo's or video to your smartphone or tablet's camera roll for instant recall

Vanish from view with this amazing Harry Potter toy and collector item. The perfect Harry Potter dress up or Cosplay for kids, adults and Harry Potter fans of all ages

Easy to use! Whether you are indoors or outdoors The simple to use Android and iOS App make you appear invisible in seconds!

Deluxe model! Movie accurate detailing and beautifully wrapped in authentic Harry Potter movie style themed Christmas paper. Also includes a bonus deluxe table-top tripod for holding your smartphone and ensuring perfect results every time. Official Harry Potter merchandise authorized and licensed by Warner Bros
This post contains affiliate links.