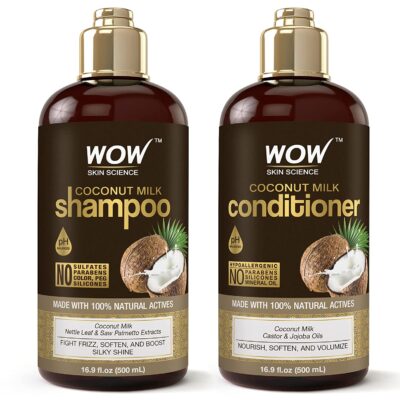 Save on WOW Skin Science Haircare, Skincare & More!
Our products never include harsh parabens, sulfates, mineral oils, or silicones! Get this WOW Skin Science Coconut Milk Shampoo and Conditioner Set – Coconut Shampoo & Coconut Conditioner Set – Shampoo Conditioner Set Paraben Sulfate Free – Shampoo & Conditioner Set for Curly Hair for only $20.75. 
Slow Down Hair Loss – Shampoo & conditioner with hydrating botanicals Coconut Milk, Shea Butter, & Sweet Almond Oil helps improve blood circulation & strengthen brittle hair strands. While showering maintain hair fall control with shampoo women & men love

Care for Your Curls – Coconut shampoo & conditioner hydrates your hair craving a curly hair shampoo & conditioner set. Our shampoo & conditioner for curly hair has shampoo for frizzy hair & coconut curls conditioner as a hydrating shampoo & conditioner set

Soft Silky Shine – Fight frizz with deep clean scalp cleansing shampoo leaving soft silky hair feeling its best. Shampoo & conditioner for hair shine is what our sulfate & paraben free shampoo & conditioner set gives with Coconut Milk & Shea Butter

Plant-Powered Ingredients – Our vegan shampoo & conditioner set is a hypoallergenic & cruelty free shampoo & conditioner set. Sulfate free & paraben free our essential ingredients gives a clean feel to your moisturized & hydrated hair

WOW Skin Science Promise – At WOW Skin Science we st& by our products & offer a full refund warranty if you experience any issues with your WOW Skin Science product. Contact us through the Amazon messaging system & we will be happy to assist you
This post contains affiliate links.