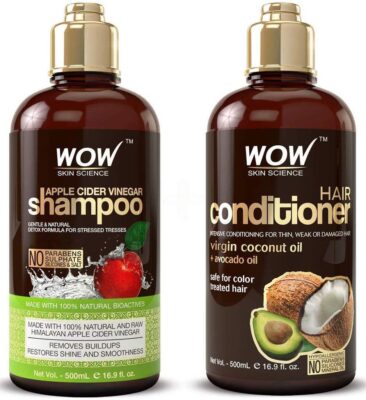 This looks like a great product! Our premium shampoo and conditioner set, infused with botanicals to clarify and rebuild, does NOT contain sulfates, parabens, or silicones, etc. Get salon level results in weeks from the comfort of your own home. This WOW Apple Cider Vinegar Shampoo and Hair Conditioner Set Increase Gloss, Hydration, Shine, Reduce Itchy Scalp, Dandruff & Frizz, No Parabens or Sulfates, All Hair Types, 2 x 16.9 Fl Oz 500mL is only $18 today! That's a savings of $16.99!
Repair damaged hair WOW shampoo and conditioner set uses virgin coconut and avocado oil to rejuvenate weak, thin, or damaged hair or dry scalp. The formulation of both oils replenish lost nutrition that's vital in keeping strong, smooth hair.

Clarifying, healthy hair Detoxify your hair and dry scalp to clear the buildups caused by dirt, filth, and style products. Apple cider vinegar removes filth that damages hair. Rich in vital protection to support healthier hair growth for men and women.

Maximize hair strength Improve your hair cleansing routine by using both to get the best long-lasting results. Enriched with essential keratin proteins, vitamins B5 & E, and saw palmetto extract to help moisturize, soften & strengthen hair strands.

Slow down hair loss Saw palmetto helps slow down hair fall and male pattern baldness, reducing the amount of hair strands falling during a shower. With a little patience, your hair will have more volume and will feel softer, thicker and natural.

Natural ingredients Clarifying shampoo & hydrating conditioner set is hypoallergenic, leaving hair moisturized & soft. Less prone to breakage, split ends, and thinning hair by absorbing essential nutrients and vitamins.
This post contains affiliate links.