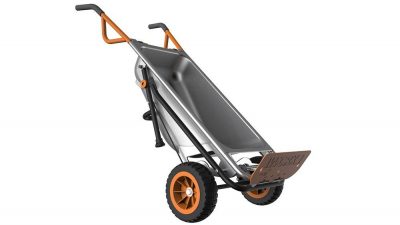 I'd never even heard of WORX Aerocarts before today,  but now that I've seen pictures I'm pretty certain I need one! This thing looks so cool. Today only, get the WORX Aerocart Multifunction 2-Wheeled Yard Cart, Dolly, and Wheelbarrow with Flat Free Tires for only $99.87! 
Instantly converts between a wheelbarrow, yard cart, bag holder, dolly, extended dolly, cylinder carrier, rock/plant mover & trailer tote

Turbo Lift design makes a 200-lb. wheelbarrow load feel like 17 lbs., approximately 3 cubic feet volume capacity

Patented two-wheel design adjusts center of gravity for a balanced and easy-to-manage load

All-steel construction means durability, and flat free tires never need inflating or maintenance

Fold-out extension arm to carry flower pots, small trees, mulch bags, straw bales and other oversized, awkward items. Includes cylinder holder, bag holder, plant mover strap, and rock mover mesh
This post contains affiliate links.