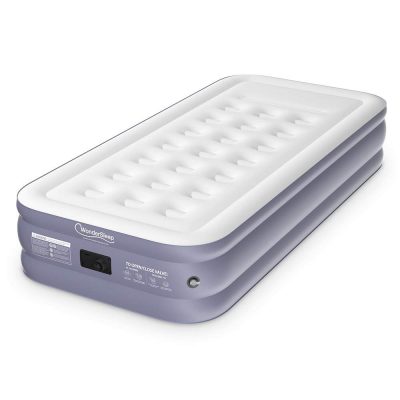 Here's an air mattress that stands above the rest, for a truly excellent night's sleep! Today only, get the WonderSleep Classic Series Twin Size Air Mattress for only $49.99. You'll be saving $100 and check out the positive reviews!
[Twin Size Air Mattress Bed] Extremely Powerful rotary pump for easy and fast inflation / deflation. The WonderSleep Classic series mattress can be fully inflated to full firmness under 4 minutes with a quick rotation.

Featuring DreamCoil Technology with 7 x 5 array of strong air coils for added durability and firmness support. Your bed remains flat and firm so you can offer you the best ever sleep wonder on a air mattress!

The air mattress is designed for in-home use and is perfect for overnight guests, friends or relatives. Can be easily deflated, folded and stored in a included carrying bag.

Twin Sized with Inflated Dimensions of: 75″ x 39″ x 20″. Double the height of traditional portable air mattress and provide your overnight guest a sleeping experience just like a real bed.

Extra thick, waterproof flocked top for added comfort and durability with multilayer, puncture-resistant material. Reinforced bottom that prevent the mattress from sliding around on your carpet. (1-Year Warranty)
This post contains affiliate links.