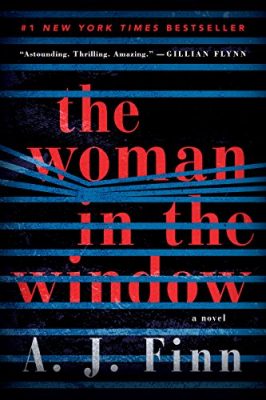 It's summer time and that means summer reading! Amazon's Deal of the Day is a kindle copy of The Woman in the Window by A. J. Flinn, New York Times Best Selling Author; it's only $3.99 today. 
An Amazon Best Book of January 2018: The Woman in the Window is a seductive and unpredictable novel, like the Hitchcock movies to which author A.J. Finn pays homage. Finn's protagonist Anna Fox is a child psychologist who lives alone in a New York suburb with a case of agoraphobia so debilitating she hasn't left the house in months. To occupy her time Anna watches film noir classics from her vast collection, interacts with people online, and sometimes spies on her neighbors. It's all very innocuous until she sees a horrible crime take place in the house across the park, recently inhabited by a new family. Call the police and report it, right? Things are a little more complicated for Anna—exacerbated by her routine consumption of prescription drugs with a lot of wine. Author A.J. Finn throws curve balls where you least expect them; I gasped out loud and in public, twice, while reading this novel because I was so taken by surprise. In the gap of time since Gone Girland The Girl on the Train we've been asking ourselves, when will we find the next big must-read psychological thriller? I think A.J. Finn's The Woman in the Window answers that question. —Seira Wilson, Amazon Book Review
This post contains affiliate links.