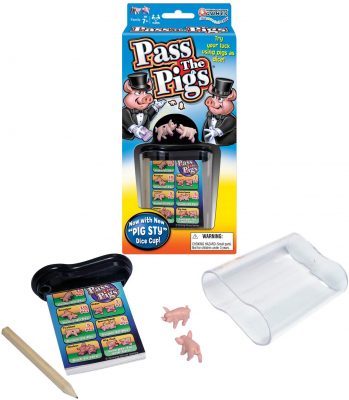 Pass the Pigs – Its' fun, addictive and requires strategy, skill, and luck. Basically a dice game, with pigs that are weighted and have different values depending on how they land. Each turn involves one player throwing two model pigs, each has a dot on one side. The player gains or loses points based on the way the pigs land. Each turn lasts until the player throwing either rolls the pigs in a way that wipes out their current score, wipes out their total game score, or decides to stop their turn, add their turn score to their total score and pass the pigs to the next player. Click here to snag the Winning Moves Games Pass The Pigs for only $5.39!
WHAT WE INCLUDE: Plastic "Pig Sty" dice cup with lid, 2 pig dice, 1 pencil, Pigs scoring guide and score pad, illustrated instructions

LET'S PLAY: Two to four players may compete, and the first player to reach 100 points or more wins the game.

IT'S YOUR TURN: You roll and if you get a Pig-Out or an Oinker, then you pass the pigs onto the next player. If you get anything else, you may decide to roll again or pass the pigs.

TAKE YOUR PIGS ANYWHERE: Makes an ideal travel game with its small plastic carrying case.
Remember, Amazon prices can change at any time.
This post contains affiliate links.