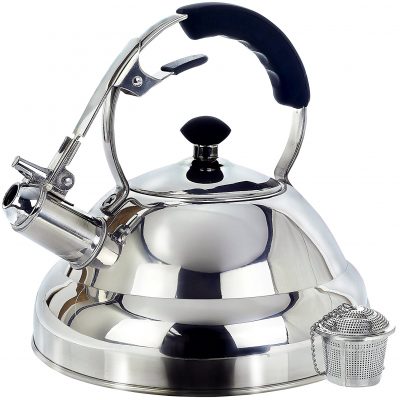 Amazon's Deal of the Day is this surgical whistling tea kettle by Willow & Everett for only $31.99, 64% off the listed price! Beautiful, functional and a show-stopper for today's modern kitchen, this high quality kettle is perfectly designed for longevity and practicality. 
If you're a tea or coffee lover, you'll be thrilled to know that this whistling tea kettle comes with a tea infuser ball made out of high quality stainless steel. This coffee and tea infuser is perfect for most loose leaf teas including green tea and herbal teas. The tea infuser will reduce debris and unwanted leaves floating in your cup. It even works for coarsely ground coffee! It's the perfect addition to your tea kettle – especially if you're giving it as a gift!
The large tea infuser is ideal for a large single mug serving. Just fill the tea infuser ⅓ or ½ way with loose leaf tea (or coffee) and let it seep in a mug of hot water. Or you can even use the tea infuser in a tea kettle or teapot if you'd like to make more than one cup!
This post contains affiliate links.