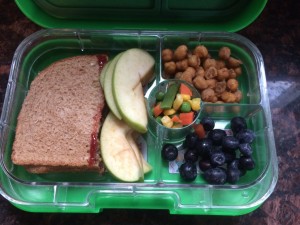 Packing school lunches is a chore my husband and I regularly fight over – that's what a pain it is. I often acquiesce because it means seven minutes of alone time before everyone else comes down in the morning. But the worst part of packing lunches is hunting down enough plastic reusable containers and matching lids to put everything in (we don't use throwaway lunch bags). Then I discovered Yumboxes. (Angels, it's time to sing.)
Yumboxes have revolutionized our morning routine
Here's our morning to do list. Does it look anything like yours?
Climb out of bed
Pull on jeans and a T-shirt
Don't bother taking a shower, that's why there's deodorant!
Stumble downstairs to start oatmeal
Let dog out
Pull out enough food for lunches so that it doesn't look like I'm starving my children (all told we pack two lunches, two morning snacks, and two afternoon snacks)
Cram food into small containers with lids that pop off three seconds later
Let dog in
Cram containers into snack bags and lunch bags
Pour oatmeal into bowls
Schlep school food to the front door without hungry kids seeing the food or they'll skip breakfast and go straight to snack
Nag kids to eat breakfast
Unload dishwasher
Pour milk for kids to drink at breakfast even though they never touch it
Remind preschooler to pee
Pray that toddler will not wet pants before she gets to school
Pack nap blanket and sheet for school cot
Feed dog
Forget to give dog water until lunchtime
Pack extra clothes because toddler will probably have a few accidents at school
Load dishwasher
Thank dog for eating all the food on the floor
Consider putting dog on table to eat all the food on the table but decide that's too dangerous because if he falls off he could hurt himself
Dress toddler
Wipe down table before crusties form
Goad preschool to get dressed on her own
Remind husband to bring his phone to work so you can nag him at 4:27pm to come home
Re-dress toddler, who has undressed herself
Shove children and husband out the door
Go to work at home office
Saves time, reduces stress
With a huge to do list in the morning, saving a few minutes of time helps. But what has made an even bigger difference is no longer having the mental stress of finding enough containers for the girls' lunches and snacks. All we have to wash is one Yumbox. And the Yumbox takes up less space in their backpacks than a jumble of plastic containers.
Coupon just for BargainBabe.com readers
Yumbox has generously created a 20% off coupon exclusively for BargainBabe.com readers! Use coupon code BBargain20 for 20% off all
Yumbox
sets (accessories not included). Good through
May 31, 2015
.
Shop here to use the coupon
.
Here are more lunches I've packed with Yumbox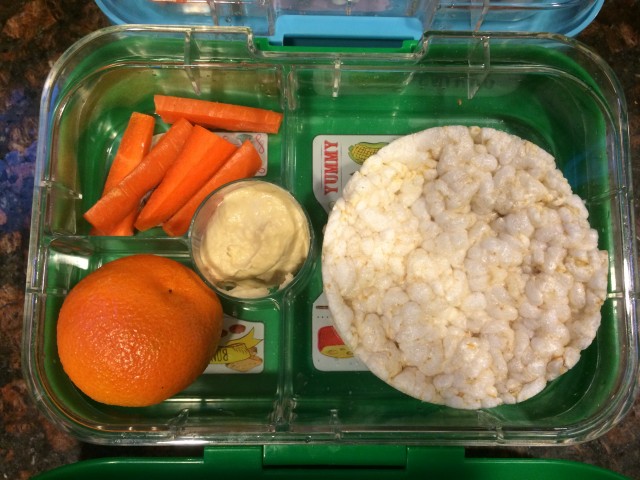 What lunch system do you use?
Full disclosure: I received the two free Yumboxes that you see pictured in this post. I requested the Yumboxes to review. My love of Yumboxes is entirely my own.