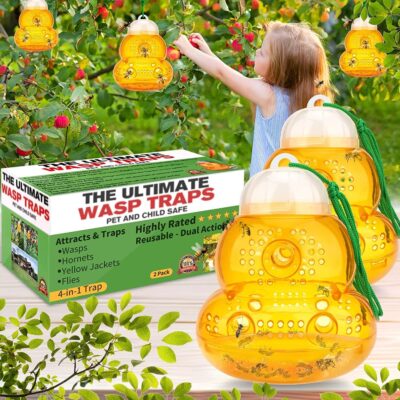 Our bee traps yellow jacket is the best choice.
Our hornets killer is designed with multiple tunnels, allowing more wasps to enter the trap in all directions, and the wasp will not be able to escape the bee catcher. Bees are very sensitive to yellow, so our bee traps are a good way to attract them, different sizes of holes allow different kinds of flying insects to enter. Get this Wasp Trap Outdoor Hanging, Wasp Trap, Bee Traps Catcher, Outdoor Wasp Deterrent Killer Insect Catcher, Non-Toxic Reusable Hornet Yellow Jacket Trap Hanging (Orange, 2 Pack) for only $13.59. 
🧡【GET RID OF WASPS SAFELY】This bee wasp traps catcher is a great solution for getting rid of wasps, yellow jackets, wasps, flies, and more insects in a safe and non-toxic way! You only need to use natural bait to trap wasps in wasp repellent outdoor, without worrying about the threat of pesticides and chemical agents to the safety of your home, pets and children. Our wasp catchers are durable enough to protect your garden, patio and more from wasp infestation from spring to fall.

😊【ECO-FRIENDLY & DURABLE MATERIAL TRAP】The bee killer is made of durable and eco-friendly ABS material, which is rain-proof, sun-proof and corrosion-resistant, suitable for use in different weathers such as high temperature, rain and fog. Wasp traps use natural non-toxic bait to capture wasps without any chemical preparations and are not harmful to the environment. Wasp trap outdoor hanging won't fall off easily as long as they're secured to branches, etc. with the included nylon cord.

🧡【EFFECTIVE & UNIQUE DESIGN WASP TRAPS】The wasp trapper is designed with 6 entrances, and the multi-entry design can increase the chances of attracting insects into the trap. The wasp repellent outdoor has a large entrance but a small exit, and a wasp entering a yellow jacket trap will not be able to escape. The hornet trap has multiple small holes distributed around the entrance to help distribute the scent of the bait and more effectively attract and capture wasps, yellow jackets etc.

😊【EASY TO USE & REUSABLE WASP KILLER】The wasp traps for outdoors are very easy to use, simply add the formulated natural non-toxic bait(sugar, apple juice, jam, etc.)to the yellow jacket trap and hang the trap at a suitable distance from your home where there are plenty of insects. No seam on the bottom of the wasp trap, no leakage. The bee trap made of durable materials can be reused many times, just empty it when it is full, wash it with warm soapy water and refill the bait.

🧡【HANG BEE CATCHER WHERE YOU WANT】Wasp killer is suitable for use in gardens, farms, orchards, camping, vegetable gardens, patios and more. Hanging yellow jacket traps are better at catching wasps, each wasp repellent outdoor comes with an 18″ nylon cord, making it very convenient to hang outdoors. You just hang it wherever you need! We love our customers, If you have any questions about wasp traps, please feel free to contact us and we will assist you to solve your problem.
Remember, Amazon prices can change at any time.
This post contains affiliate links.