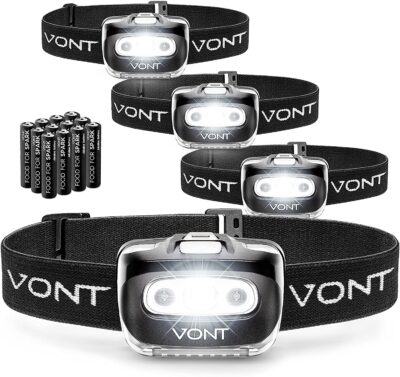 It's the "dark" season, so why not light things up! Get these Vont "Spark" LED Headlamp [Batteries Included] IPX5 Waterproof, with Red Light, 7 Modes, Head Lamp, for Running, Camping, Hiking, Fishing, Jogging, Headlight Headlamps for Adults & Kids (4) for only $19.99 today! Whether you're backpacking or caving or walking the dog at night or going out into the storm or at the basement during a power outage or simply need light during a car breakdown or repair, this is the only headlamp you will ever need.
Ultra bright & long lasting: Featuring super bright Proprietary VLEDS that can vividly light up your immediate vicinity, even in total darkness. Unbeatable battery life of up to 90 hours (2X of our competitors'). Easily light up an entire tent, road or even a mountain. (Batteries are included for your convenience)

Easy 7 light mode toggle: Easy, quick and single button press to toggle through 7 light modes. Low/Medium/High/Strobe (Main Light) and Low/SOS/Strobe (Side Lights). Efficiently use only the light you need.

Ergonomic 45° tilt: Never strain or crane your neck again, thanks to the ergonomically designed light throw at a 45° angle. Competitor headlamps throw light at an awkward 30°, causing certain neck strain. By far, the comfiest camping headlamps ever.

Waterproof, drop-resistant & portable: Never worry about being out in the rain or dropping your head lamp. IPX5 Waterproof rated and vigorously tested to be indestructible in extreme conditions. Easily fits in your pocket too.

Lifetime warranty: The Spark headlight won't let you down. We just don't say this, but also back it up with lifetime warranty covering defects and 24/7 support. Use your headlamp and its accessories without having to worry about it to break or stop working because we have you covered.
This post contains affiliate links.