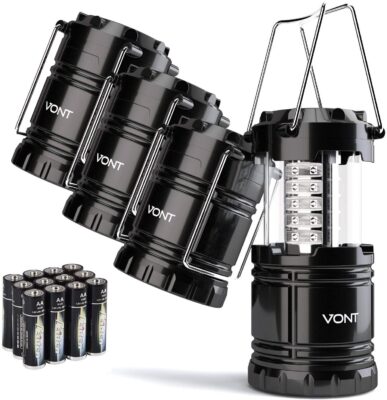 Simply unfold the metallic handles and pull up to illuminate your lantern. As soon as you start pulling up, you will see the light coming out of your lantern. You may only pull half way if you wish to get a dimmer light. Once you have pulled all the way up you will be provided with 360 illumination from 30 quality LEDs. Feel free to hang your lantern from a nearby tree. Today only, snag the Vont 4 Pack LED Camping Lantern, LED Lanterns, Suitable Survival Kits for Hurricane, Emergency Light for Storm, Outages, Outdoor Portable Lanterns, Black, Collapsible, (Batteries Included), for only $19.99.
Bright & Lasting: Equipped with 30 crazy bright leds, this compact lantern cuts through 360 degrees of darkness on the stormiest, dimmest nights. Easily lights up the entire tent or room.

Compact & Lightweight: Collapsible design that reduces or increases the light as you collapse or expand the lantern. When collapsed it's as small as your phone. Easily fits in your backpack or emergency kit.

Waterproof: Constructed with aircraft grade materials: your lantern is able to survive a 10-foot drop, being temporarily submerged under water and even caffeinated toddlers.

Original Patented Version: We hand-craft each lantern with the strict quality control to give you the best product you deserve. Do not equip yourself with inferior lanterns.

Lifetime Warranty: You'll feel pleasantly surprised at the brightness, quality, durability, longevity and performance. You stay covered with a lifetime warranty & support provided by Vont. CE/ ROHs/ EMC certified.
This post contains affiliate links.