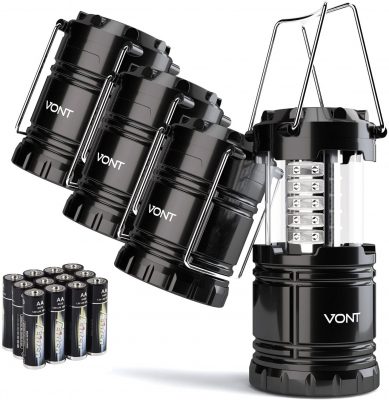 We believe there's nothing better than smart, inexpensive electronic innovations. We also believe there's nothing more annoying than mass-produced junk that works once. That's why our products are designed and manufactured with meticulous attention to detail and eco-friendly materials. Today only, get the Vont 4 Pack LED Camping Lantern, LED Lantern, Suitable for Survival Kits for Hurricane, Emergency Light, Storm, Outages, Outdoor Portable Lanterns, Black, Collapsible, (Batteries Included) for only $19.99! These have excellent reviews.
SUPER BRIGHT & LONG LASTING ––– Equipped with 30 crazy bright LEDs, this compact lantern cuts through 360 degrees of darkness on the stormiest, dimmest nights. Easily lights up the entire tent or room. Battery life lasts over 90 hours – that is TWICE longer than competitors.

COMPACT & LIGHTWEIGHT ––– Unique, patented collapsible design that reduces or increases the light as you collapse or expand the lantern. When collapsed it's as small as your phone. Easily fits in your backpack or emergency kit. Our lanterns are a life-saver in unpredictable situations like hurricanes or a zombie apocalypse.

WATERPROOF & INDESTRUCTIBLE ––– Constructed with aircraft grade materials: your lantern is able to survive a 10-foot drop, being temporarily submerged under water and even caffeinated toddlers.

ORIGINAL PATENTED VERSION ––– We are the original patent holders for this lantern. We hand-craft each lantern with the strict quality control to give you the best product you deserve. Don't equip yourself with inferior lanterns.

LIFETIME WARRANTY ––– You'll be pleasantly surprised at the brightness, quality, durability, longevity and performance or we will refund your money no questions asked. Lifetime warranty & support provided by Vont. CE/ROHs/EMC certified.
This post contains affiliate links.