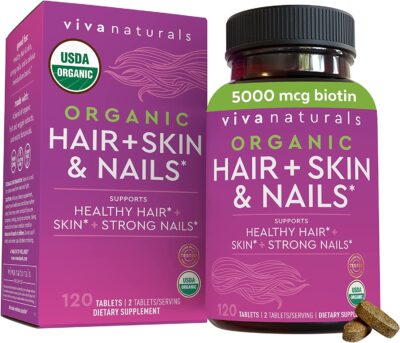 Click here to save on Viva Naturals Vitamins & Supplements.
We believe that everyone should have access to great wellness products that help them feel their best. For over a decade, we've been dedicated to making wellness accessible and inclusive for all. Get Organic Hair Skin and Nails Vitamins for Women– Biotin 5000 mcg Supplement to Support Normal Hair Growth and Glowing Skin, USDA Organic Supports Strong and Healthy Nail Growth, 120 Tablets for only $15.99. 
✔️ Supports Strong and Healthy Hair* – Support normal hair growth with our organic hair vitamins for women.* Made with biotin 5000 mcg, essential vitamins, a blend of botanicals + organic fruit extract and organic horsetail, this hair supplement helps breathe new life into hair.*

✔️ For Strong, Healthy Nails* – Each serving of our hair and nails vitamins for women delivers a 5,000 mcg power shot of biotin, one of the most studied ingredients for supporting healthy, strong nails.* If you're looking for nail vitamins for stronger nails, we've got you covered.*

✔️ Supports Radiant Skin* – Formulated specifically for women with two important skin vitamins, the antioxidant power of vitamins C and E in these tablets gives your overworked skin a helping hand to fight back against free radical damage.* Plus, these women vitamins contain full b-complex vitamins for healthy skin.*

✔️ Supports Metabolism and Energy Production* – A holistic beauty secret that helps support beauty from the inside out, our biotin vitamins for hair skin and nails also give your cellular metabolism a much-needed hand.* This skin supplement helps your body process protein, carbs and fat.*

✔️ Certified USDA Organic, Plus Non-GMO and Gluten-Free – Our hair vitamins for women are formulated with some of the finest botanicals and fruit extracts available. Packed with premium ingredients, these tablets are Non-GMO, Gluten-Free, Dairy-Free and Certified USDA Organic.
This post contains affiliate links.