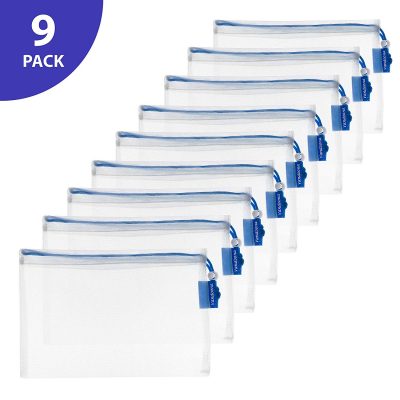 It's the rare combination of high-quality craftsmanship and uncompromising strength that sets Vandoona bags apart from the rest. Our produce bags are an eco-friendly alternative to plastic bags. The mesh fabric is thin, allows for easy identification of contents, & provides excellent air circulation to keep your produce fresh longer. Your refrigerator will be organized with the mesh bags, and unpacking will be a breeze, you can simply wash the produce in the bag and put them away in your fridge. Right now, get the Vandoona Reusable Mesh Produce Bags – Set of 9, Food-safe Strong See-Through Bags for Fruits, Veggies, etc. for only $8.92. 
AVOID COUNTERFEIT: VANDOONA LLC is the ONLY AUTHORIZED SELLER of our bags. COMPLETELY TRANSPARENT PRODUCE BAGS: Vandoona reusable produce bags are completely transparent for airflow and visibility. They are sheer enough for the barcodes to run through them, enabling you to swiftly pass through checkout with your purchases. No need to waste time double handling your produce when you get home from the market, simply wash the produce in the bag, allow to dry, put away and enjoy an organized fridge.

MULTI-PURPOSE: Take the net produce bags to the grocery with you to hold loose food items such as fruits, vegetables, candies, nuts, pasta, beans and snack mixes. The mesh bags can also be used in the garden and even for non-food items as well such as toys, laundry, beach items, toiletry, gym accessories, makeup, arts n crafts and so much more.

UNCOMPROMISING STRENGTH AND DURABILITY: The bags are double-stitched on the sides (not on the bottom) for increased strength and support. Despite the bags being ultra-thin and transparent, they are incredibly durable and will never tear or fall apart. The drawstring is durable and strong and comes with a secure white lock to keep contents secure. It is perfectly sized so it doesn't get tangled when pulled tight.

BETTER FOR YOUR PRODUCE & FOR THE ENVIRONMENT: The reusable produce bags are BPA and lead-free for organic lifestyle and optimal health. You can now shop without clogging landfills and waterways with plastic bags and containers. Vandoona bags help pave the way for the future with environmental awareness and better care for your produce.

PERFECT FOR KEEPING SMALLER THINGS ORGANIZED: This set of Reusable produce bags from Vandoona offers you an eco-friendlier way to tote nature's goodies home. The set includes nine 12-inch x 8-inch bags perfect for stuffing smaller items such as tomatoes, apples and beans and placing them into larger bags to keep them organized.
Remember, Amazon prices can change at any time.
This post contains affiliate links.