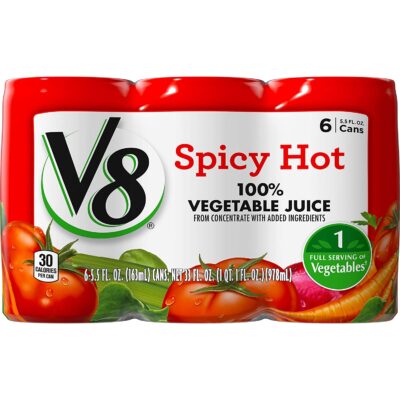 This is my secret ingredient for chili! The original plant-powered drink, V8 Spicy Hot 100% Vegetable Juice gives you the feel-good nutrients your body needs—like minerals and antioxidant vitamins—now with the perfect spicy hot kick. Not to mention, adding vegetables to your day is an important part of your diet. Get V8 Spicy Hot 100% Vegetable Juice, 5.5 oz. Can, 6 Count (Pack of 8) for only $12.80 right now. 
A SPICY HOT WAY TO GET YOUR VEGGIES EVERY DAY: Made from a delicious blend of vegetables, this plant-based drink has 1 full serving of veggies

EXCELLENT SOURCE OF ANTIOXIDANT VITAMINS A & C: Full of feel-good antioxidant vitamins your body craves, replenish your body with this vegetable juice that has only 30 calories per can

SATISIFYING VEGGIE SNACK: V8 Vegetable Juice is a super convenient way to add veggies to your diet. Drink this veggie snack to jumpstart your day, satisfy your afternoon munchies, and help curb those late night cravings

NON-GMO PLANT-BASED INGREDIENTS & GLUTEN-FREE: This plant-based drink has no artificial colors or flavors, and no added sugar

SHIPS AS A 6-PACK: V8 Spicy Hot 100% Vegetable Juice ships as six 5.5-ounce recyclable cans
This post contains affiliate links.