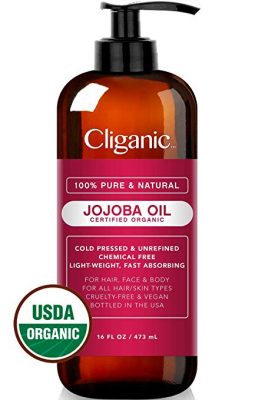 Cliganic 100% Pure Organic Jojoba Oil is cold pressed, unrefined and all natural, making it the ultimate treatment for dry skin and hair. Often referred to as nature's moisturizer for its ability to mimic the skin's sebum, our virgin jojoba oil contains vitamins and minerals essential for healthy skin and hair, including vitamin E, B-complex. Its anti-bacterial, anti-inflammatory and non-toxic properties make it a powerhouse multi-purpose oil. Chemical free and fast absorbing, it's gentle enough to be used on even the most sensitive skin. Click here to purchase the USDA Organic Jojoba Oil 16 oz with Pump for only $22.39.
CERTIFIED ORGANIC JOJOBA OIL by USDA – the strict oversight of USDA ensures the integrity of our Organic Cold Pressed Jojoba Oil. In other words, it's really 100% ORGANIC.

100% PURE, ONLY ONE INGREDIENT – Our Premium Jojoba Oil Organic is 100% Pure & Natural – No Additives, No Chemicals, No Alcohol, No Fragrance and Not Diluted (Jojoba Plant: Simmondsia Chinensis).

CLIGANIC 100% SATISFACTION GUARANTEE – RISK FREE! We put a lot of effort into manufacturing quality products that will meet our customers' expectations. And we stand behind every item that we make, 100%. If you are not satisfied completely with your purchase, we will be happy to replace it or issue you a full refund.

BULK SIZE, GREAT VALUE – Our Organic Jojoba Oil 16 oz Bulk Wholesale. Now you get premium certified organic jojoba oil, at a great value for all your DIY Beauty needs.

PREMIUM BRAND, BOTTLED IN THE USA – Cliganic Organic Unrefined Jojoba Oil is bottled in the USA with the highest standards. Our production process takes the dessert essence, giving you premium 100% pure organic oil. It is NOT TESTED ON ANIMALS now with the Cruelty Free Certification.
This post contains affiliate links.