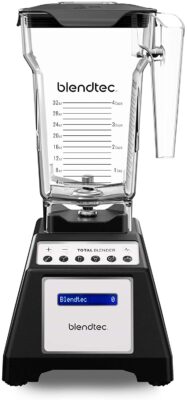 Elevate Your Blending Experience: High quality blender for smoothies, shakes, cocktail drinks, soups, crushed ice (snow cones, margaritas), juicer, ice cream maker, mixer, and self-cleaning. Our blenders are used in some of the largest smoothie shops around the world, and you can enjoy the same experience in the comfort of your own home. No tamper/plunger needed due to our patented technology which automatically pulls ingredients toward the blade, instead of spinning around in a circle. Click here to save up to 58% off Blendtec Blenders, today only!
Patented Blade/ 80% Thicker: Stainless-steel forged blade with wings for amazingly smooth blends (10x stronger than other blender blades) note Blade is not sharp blade is dull No more cuts and pokes. Self-cleaning: add a little soap and water your jar can clean itself in less than 1 minute.

Large Batches: BPA-free, four-sided jar is a 75 ounce volume jar with 32 ounce blending capacity (wet or dry) ideal for blending beverages for 3-4 people.

Warming Soup: Blendtec blenders heat soups and drinks through blade friction heat. Enjoy a warm meal or beverage in 6 minutes or less. Electrical ratings: Volts 120, Watt 1560 Hz, 50-60 amp, electrical cord: 35inches/3 feet.

2 Year Warranty/American Company: Family-owned and driven to build the best quality products – without compromise. Engineered and assembled in the USA.
This post contains affiliate links.