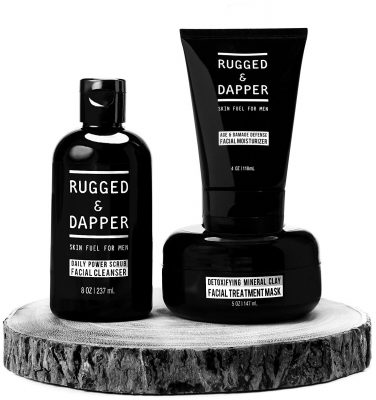 Today only, save up to 54% off Rugged and Dapper Men's Grooming Products.
Plant based exfoliants prepare the skin for a clean shave by gently removing dead skin cells to eliminate breakouts and ingrown hairs, for a revitalized complexion.
Peptides boost collagen & elastin production to repair & prevent wrinkles to keep your face looking dapper, day after day. Our weekly invigorating detox treatment draws out impurities that advance aging and cause breakouts.
Nourish, Hydrate and Fuel the Skin without leaving home. Get the RUGGED & DAPPER All-In-One Essential Skincare Set for Men, Kit Includes Daily Facial Scrub Cleanser, Moisturizer Aftershave Lotion and Detox Face Mask for $49.96.
Why You Need It: This All-In-One Essential Skincare Set covers all of the bases while utilizing only the highest quality Natural & Organic ingredients. It is powerfully designed to cleanse, exfoliate, tone, detoxify, repair and moisturize. This trio will keep your skin healthy and looking dapper, in just a few effortless steps.

Who Benefits from Using it? The natural ingredients are easy on skin yet tough on the bad stuff, making it vital for every man's bathroom cabinet. This multi-purpose combo kit is ideal for all ages and most skin types including: normal, sensitive, oily, rough, dry, combination, and acne-prone complexions.

Step 1: Our Daily Power Scrub is a nourishing cleanser, foaming exfoliator and energizing toner in one. Natural Cleansers attack dirt, excess oil and grime deep beneath the surface to eliminate congested pores and breakouts. Gentle exfoliants buff away dead skin cells and soften hair follicles for a clean shave, while preventing ingrown hairs.

Step 2: Our Detoxifying Mineral Clay Facial Mask is an invigorating treatment designed to draw out impurities and absorb excess oils that cause acne, blackheads and a shiny face. Natural Kaolin Clay extracts toxins that cause breakouts and advance the effects of aging. Highly concentrated vitamins, minerals and antioxidants heal and nourish the skin for a noticeably renewed complexion.

Step 3: Our Age + Damage Defense Facial Moisturizer is a dual moisturizer and soothing aftershave in one. Peptides and a blend of nutrient rich super ingredients defend against the appearance of fine lines and wrinkles, dull or uneven skin tone and post-shave irritation
This post contains affiliate links.