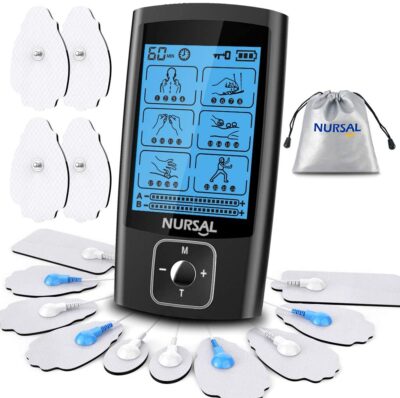 Save up to 52% off NURSAL Electric Massagers and start relaxing! Most of us are suffering from pain and fatigued & sore muscles due to overwork, housework, phone addiction, extended time driving. Just like our logo" Care for your loved ones", we hope your quality of life is improved with the NURSAL TENS. This NURSAL Dual Channel EMS TENS Unit 24 Modes Muscle Stimulator for Pain Relief & Muscle Strength with 14 Pads, Rechargeable TENS Machine Pulse Massager with Storage Pouch Pads Holder Lanyard Cable Ties is only $22.99 today!
PROFESSIONAL PAIN RELIEF MACHINE: The electronic tens device brings non-invasive pain-relief method for home uses. 24 pre-programmed massage modes provide precise control for pain relaxation and soothing muscle stiffness, just as a real human massage does. Small electrical impulses delivered through electrodes alleviate back, neck, shoulder pain, help treat sports injuries, arthritic or inflamed joints, shoulder tension.

REAL AB DUAL CHANNEL: Comparing with other dual channel TENS massagers which can't change modes separately, this rechargeable electric muscle massager can set separate modes and intensities for channel A and channel B, thus you are able to customize each channel independently and use it even for 2 persons simultaneously to relax with preferred modes.

MEMORY FUNCTION & ACCIDENTAL TOUCH PREVENTION: NURSAL electronic TENS device save your time! Thanks to the exclusive function, NURSAL nerve stimulator remembers and sets the massage mode you have applied last time in a flash. Accidental touch prevention function is used to prevent any unintended adjustments during the use. What's more, 10-60 minutes timer allows setting a time limit.

24 MODES & 20 INTENSITY LEVELS: NURSAL TENS unit incorporates 6 main therapy modes(each with 4 sub-modes) to efficiently alleviate body soreness, provides diversified pain relief patterns and suit healing different body parts such as neck, back, shoulder and waist. You may easily customize your therapy experience with 20 intensity levels to control the frequency of the electrical impulses.

14 STRONG ADHESIVE THICKER REUSABLE ELECTRODE PADS: The wireless TENS is equipped with premium quality pads firmly attached them to your skin. The TENS unit electrodes are available in 3 sizes (large*2, medium*10, small*2) for greater body electrical stimulation and more precise treatment session at different parts of the body. NURSAL will always stand by you and offers 1 year warranty service!
This post contains affiliate links.