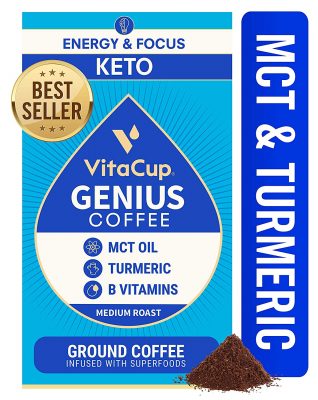 This coffee looks amazing! Today only, save up to 50% off VitaCup Superfood Infused Coffee and Teas. This flavor promotes Energy and Focus, with a delicious combo of B vitamins, MCT, Turmeric and Cinamon! Get the VitaCup Genius Keto Coffee Ground Bags 12oz MCT, Turmeric & Cinnamon | Energy & Focus| for only $12.57 today. 
? ENERGY & FOCUS: This infusion of MCT oil, cinnamon, and turmeric is the secret weapon of the bold and brainy! This next-level trio packs a serious punch with properties that boost energy and focus.

✅ KETO-FRIENDLY: Energize your inner genius with an infusion of MCT (medium-chain triglyceride) oil – a Keto-friendly healthy fat.

? DAILY VITAMINS : Get your daily vitamins from one cup of coffee. A powerhouse blended vitamin infusion of B1, B5, B6, B9, B12 and D3 to make it easy getting nutrients to power your body.

☕ QUALITY COFFEE: Enjoy a smooth, and richly complex, full-bodied medium roast using 100% Arabica beans that are roasted, blended, and in the USA.

? BREW IT UP: Each bag contains 12 ounces of gourmet ground coffee, appropriate for any drip coffee brewers, electric coffee pots, French press, or even cold brew. Each bag is sealed to preserve flavor and product integrity.
This post contains affiliate links.