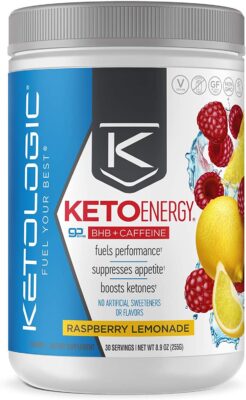 I have heard some very compelling success stories about the Keto lifestyle and today only, you can save up to 50% off Keto diet supplements from KetoLogic. KetoLogic provides the resources you need to eat better, feel better, and live better. Our products are carefully crafted to support the ketogenic lifestyle, and we provide all the tools you need to succeed, making keto easier than ever. Get the KetoLogic BHB Exogenous Ketones Powder with Caffeine (30 Servings) – Keto Pre-Workout, Boosts Ketosis, Energy & Focus – Support Keto Diet with Beta-Hydroxybutyrate Keto BHB Salts – Raspberry Lemonade for only $22.49 today. 
BOOSTS KETONES: Kickstart your body into a state of ketosis with KetoLogic's BHB exogenous ketone supplement.

FUELS MENTAL AND PHYSICAL PERFORMANCE: BHB (beta-hydroxybutyrate) naturally fuels your brain and muscles during periods of low-carbohydrate intake.

ENHANCES ENERGY: Drink KetoEnergy BHB before a workout or during those afternoon energy "slumps" for that extra energy boost while also curbing carb cravings.

REFRESHING: Great tasting fuel source with NO artificial flavors or sweeteners. Our BHB is dairy-free, gluten-free, and free from GMO ingredients.

OPTIMAL RESULTS: Shake the bottle before each use to loosen the powder as the product settles. Mix 1 scoop per 8 – 12 fl. oz. of water (adjust for taste preference). Use as needed throughout the day. For optimal results, consume 2 scoops with 16 – 24 fl. oz. of water.
This post contains affiliate links.