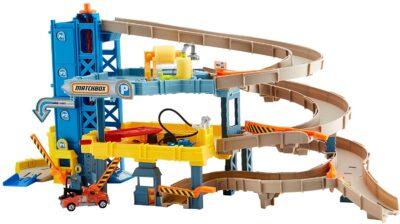 There are Christmas gifts galore today on Amazon. Click here to save up to 50% off Barbie, Hot Wheels, and Fisher-Price toys. Items start at only $3.49. Get this Matchbox: 4-level Garage [Amazon Exclusive] for only $24.49. That's a savings of $10.50. For every mission, there's a vehicle. Get your entire collection of Matchbox vehicles ready for the next adventure with the Matchbox 4-Level Garage. If your car needs a tune-up, the help of a good tow truck, or a premium car wash, this highly interactive play set is your one-stop shop!
A one-stop shop for real-world adventures!

Four levels of activity including a spiral ramp and real working elevator.

Features a premium car wash to get cars "clean."

Service station to "repair" your Matchbox vehicles.

Includes one Matchbox tow truck for fun straight out of the box.
This post contains affiliate links.