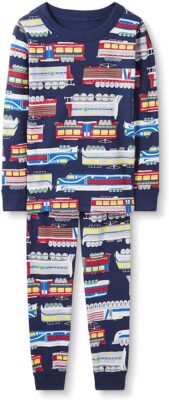 Hanna Andersson is by far my favorite brand for kiddos, especially for underwear and pajamas that last and last (through multiple kids). Click here to check out the entire selection and save up to 48% off on Hanna Anderson Kids Pajama Sets and Underwear. You'll have to click around with different sizes and patterns to find the bargains, such as these adorable "Full Steam Ahead Longjohns", only $24!
Imported

LONG-SLEEVE PAJAMA SET: Original stripe-print pajama set in certified organic cotton is the perfect soft sleep layer for kids. Ready-to-grow cuffs keep the fit. Perfect pajamas for sleep and play. Smooth seams surround your bundle in comfort all night and day.

MADE TO LAST: Hand-me-down quality pajamas feature an encased stretch waist and super-smooth flatlock seams for all-night comfort. Organic combed cotton and high-quality design ensure that 50 washes from now, PJs will remain bright & happy.

ORGANIC BY NATURE: Our cotton is grown without chemical pesticides or fertilizers and is certified organic. It is also certified to be free from over 100 harmful chemicals by OEKO-TEX, a strict European standard.

HIGH QUALITY & FIT: Hanna Andersson's famous quality is exemplified in superior softness & long-lasting durability. You might notice that Hanna Andersson pajamas have a snugger fit than others. We don't treat our organic cotton pajamas with flame retardant chemicals, so making the fit snugger means kids are kept safer as they sleep and play.

LEGENDARY LOOKS: From hoodies & pajamas to swimsuits & underwear, Hanna Andersson knows kids clothing. For babies, toddlers & kids, discover the perfect dresses, leggings & sweatshirts for school, play & any day.
This post contains affiliate links.