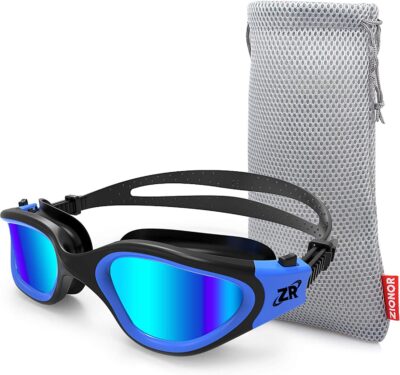 Summer's not over yet! Save up to 44% off on Swimming Goggles from ZIONOR. Polarized lenses offer a technology that includes special filters which can absorb the horizontal light when the sun's light begins shining on the various objects in your environment. And over 99% of the glare that bouncing light waves from the sun create are filtered away from your eyes when wearing polarized swim goggles. Get the ZIONOR Swim Goggles, G1 Polarized Swimming Goggles Anti-Fog for Adult Men Women for only $15.59. 
[Special Polarized Lens] – ZIONOR swim goggles featured with polarized lens, provides better eyes protection against harmful UV rays and lights, restore true color, eliminate reflected light and scattered light, for outdoor swimming, surfing, kayaking and other water related sports

[Comfortable Wearing] – This swimming goggles come with soft and flexible silicone gasket, adjustable split head strap, TPR ergonomic nose bridge, provides excellent suction and ensure non-slip coverage, that is designed to fit a wider range of face shapes for both women and men

[Anti-fog and Leakproof] – The polarized swim goggles also feature an enhanced anti-fog technology that can ensure clear vision and protect your eyes, the 3D double seal frame provides excellent fit and water resistance, making them great for both indoor and outdoor training

[Panoramic Clear Vision] – The swim goggles made with curved and HD lenses, provides better light transmission, allow for better clarity and enhanced unobstructed peripheral vision under water. You can enjoy swimming without any obstacles and stay safe at all times

[Solid and Durable] – ZIONOR swim goggles are made of premium silicone and polycarbonate. Silicone frame is pretty durable, soft and flexible. Polycarbonate lenses are resistant to cracking and not easily deformed
This post contains affiliate links.