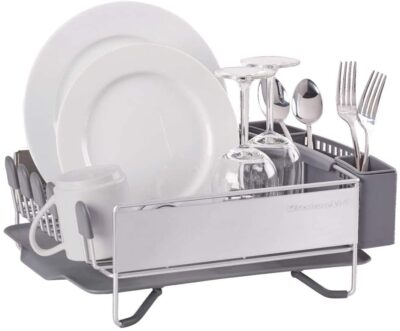 Food may feed to the body, but making feeds the soul. And that feeds us. It's why we make everything from cutlery, to coffee makers, to cooktops. Today only, save up to 40% on KitchenAid Tools. A world of products with a single purpose: to make sure you get the most out of making. So whether you cook, bake, brew, or blend, anything you want to do in the kitchen, you can do with KitchenAid. Click here for the KitchenAid Compact Stainless Steel Dish Rack, Satin Gray, only $32.99 today. Keep countertops dry and organized with a KitchenAid Compact dish rack. This dish drying rack has features a Compact footprint that can accommodate full size pots and pans, assorted dinnerware and more! Featuring brushed, stainless steel panels with a stylish gray drain board and caddy, not only does this dish rack have a truly premium look, but will seamlessly match your kitchen decor.
COMPACT FOOTPRINT: Occupies minimal counter space and ideal for small kitchens

MULTI-FUNCTIONAL: Designed to drain over any sink or atop a drying mat on the countertop, this dish rack can handle assorted dinnerware such as plates, bowls, and cups and full sized pots and pans

HIGH QUALITY: Heavy-duty, satin-coated, rust-resistant wires secure items and soft feet keeps dishing rack from scratching countertops

EASY DRAINING: Self-draining board is designed with the perfect pitch, to avoid water pooling in the rack and is removable for easy cleaning

HIGH-CAPACITY STORAGE: Removable flatware caddy, with built-in, dishwasher-inspired handle and adjustable compartments for cutlery and specialty items
This post contains affiliate links.