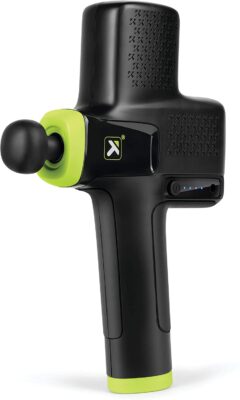 Treat your body right in 2021 with Today's Deal of the Day: save up to 40% off TriggerPoint Foam Roller and Massage Guns. Move better and recover faster with this 4-speed, controllable percussion massage gun (only $119.40 today) that helps increase blood flow, hydrate muscle tissue and improve the body's performance both pre- and post- workout. 
4-speed muscle massage gun delivers targeted pressure to help increase blood flow, hydrate muscle tissue, and improve range of motion pre and post-workout

An angled handle with a top-weighted design provides comfort and ease of use, and allows for better control and dexterity

Universal massage head is optimized for use on multiple muscle groups to increase blood flow, improve range of motion, and accelerate recovery time

A quiet, brushless 4-speed motor runs quietly and efficiently; rechargeable battery supplies over 2 hours of continuous massage

Massage gun is lightweight and travel-friendly: measures 10. 3 x 7. 5 x 2 inches and weighs 2. 4 pounds; charger included

Included Components: Ac Adapter And Owner'S Manual Included
This post contains affiliate links.