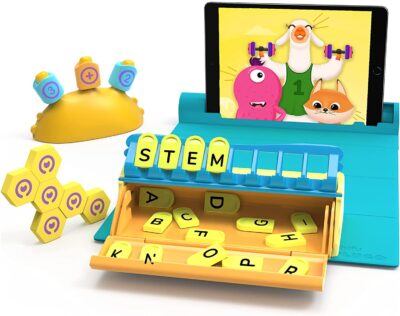 0 STEM Wiz Pack is a combo of the most popular Plugo kits – Count, Link, and Letters. All the STEM learning you need in one! It comes with 1 gamepad, 3 interchangeable gaming kits and 1 companion app. Plugo app has 15 interactive games and 750+ levels that make STEAM learning super fun. Click here for the Plugo STEM Pack by PlayShifu – Count, Letters & Link (3in1) | Math, Words, Magnetic Blocks, Puzzles | 4-10 Years STEM Toys | Gift Boys & Girls (Works with iPads, iPhones, Samsung tabs, Kindle Fire), only $71.99 today!
PLUGO STEM pack combines the goodness of three AR-powered STEM kits – Plugo Count to learn math, Plugo Letters to spell and learn new words, and Plugo Link to solve puzzles with magnetic blocks. Hands-on learning and healthy screen-time guaranteed with story-based challenges. Watch the video to catch them all in action!

AGES 4-10 – Plugo app has 15 interactive games and 750+ levels that make learning super fun (no in-app purchases). More importantly, the app adapts these games to the child's grade from pre-K to Grade 4 for a progressive educational journey.

STEM, STEAM & everything in between – sharpen your counting, arithmetic, linguistic, comprehension, problem-solving, and fine-motor skills. The Plugo 3-in-1 pack works to spark STEAM skills, especially math, engineering and linguistic abilities. Its a great gift for kids.

IN THE BOX – The pack contains 3 Plugo kits (Count, Link, and Letters) and 1 Plugo Gamepad. The gamepad is a foldable mat that holds your device in the slot on one side. It has a play area on the other side with embedded magnets to place and play with the Plugo kits one-by-one. Download the Plugo app from App Store or Play Store for free and get started (The box doesn't come with a tablet/smartphone).

COMPATIBLE DEVICES – iOS – iPad 5th gen or newer, all models of iPad Pro (except Pro 12.9″), all models of iPad Air, iPad Mini 2nd gen or newer, iPhone 6 or newer | Samsung devices: 2015 and newer, 2GB RAM and above [Samsung Tab A7, A 10.5, S7 and S7+ not supported] | Amazon – Fire 7 (9th gen 2019 release only), Fire 8 (8th gen 2018 release, 10th gen 2020 release); [Fire 10 not supported]
This post contains affiliate links.