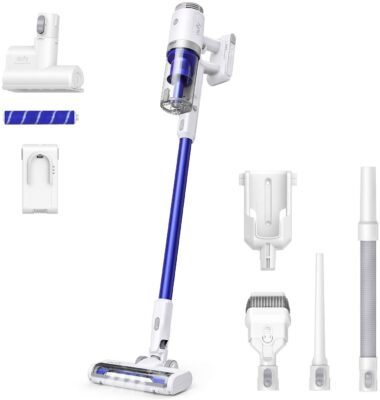 0000000 Introduced by Anker Innovations in 2016, eufy is a purveyor of a smart lifestyle. Through ingenious designs and unmatched service, we offer a wide range of products. With an emphasis on technology and research and development, we engineer our products with our consumers in mind, incorporating intelligent navigation, voice assistants, and smartphone apps to ensure a smart and effortless lifestyle for everyone. Rest easy, relax with eufy. Get this eufy by Anker, HomeVac S11 Infinity, Cordless Stick Vacuum Cleaner, Lightweight, Cordless, 120AW Suction Power, Additional Detachable Battery, Cleans Carpet to Hard Floor for only $179.99 today. (That's a savings of $30 off the list price). 
Effortless Handling: The cordless, lightweight design allows you to maneuver into corners and around furniture with ease.

Swap-and-Go Battery: An additional battery allows for 2x the cleaning. Simply swap-in the spare and complete the whole clean in one session.

Versatile Modes: Utilize all of the 120AW suction power for up to 8 minutes of deep cleaning in Max-Mode. Clean up crumbs and dust with ease for up to 25 minutes in mid-mode. Enable low-mode when your whole home requires attention and make the most of an ultra-long 40-minute run-time. (Run-times are based on single battery pack usage)

Tools For Every Task: Whether it be an impossibly tight space or a delicate surface, there is an attachment suitable for any cleaning scenario.

What's in the box: HomeVac S11 Infinity, Wall Mounting Accessories, Floor Brush, AC Charger, Metal Hose, Long Crevice Tool, 2-in-1 Crevice Tool, Mini-Motorized Brush, Extension Hose, Soft Roller Brush. Additional Battery Pack. 2-year warranty for the vacuum. 12-month warranty for each battery pack.
This post contains affiliate links.