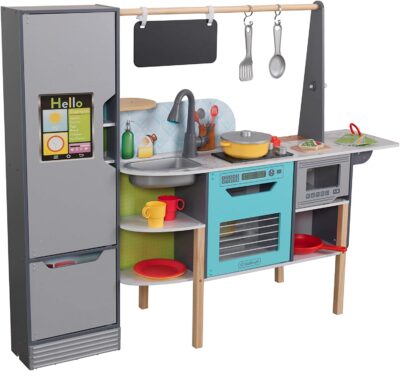 Click here for to save up to 40% off Kids Furniture from Kid Kraft, Teamson and Animal Adventure today! Imagination meets innovation with the KidKraft Alexa 2-in-1 Kitchen & Market. Double-sided play lets kids run to the "store" for their groceries and then cook up meals in a safe, creative way on the kitchen side. Even without the KidKraft kid skill enabled, kids will stay entertained through numerous activities including cooking meals with 24 recipe cards, checking out at the grocery store, playing games and more! With 360˚ play for multiple kids and realistic kitchen and market sounds, the fun is magical, inspirational and unlike anything seen before. Click here for the KidKraft Alexa-Enabled 2-in-1 Wooden Kitchen & Market with Lights and Sounds, Interactive Foods and Games Plus 105 Accessories, Gift for Ages 3+, Amazon Exclusive only $169.99. 
Smart connected toy works through the enabled KidKraft kid skill for Alexa to provide interactive play across 4 modes: Classic, Free Play, Recipe Cards, Games

On one side, kids can learn to shop in the market with self-checkout, working smart scanner, bagging area, cash and drawer, storage shelves and freezer

On the other side, kids can cook in the lights and sounds kitchen, which includes fridge, freezer, sink, smart faucet, smart stovetop, smart oven, smart cutting board, microwave, storage hooks, chalkboard sign, storage shelves, utensils, plates, smart pot and pan

34 interactive food items plus pot and pan interact with the stove, cutting board and checkout scanner through built-in sensors

For fun outside the KidKraft kid skill for Alexa, try the Free Play mode, which provides sounds and lights as well as play prompts and suggestions through the onboard speaker

Learn to cook with Recipe Card mode that guides kids through whipping up a recipe based on the card inserted into the reader

Guess what's needed. Secret Ingredient game lets kids find the missing ingredient by scanning items on the cutting board RFID reader
This post contains affiliate links.