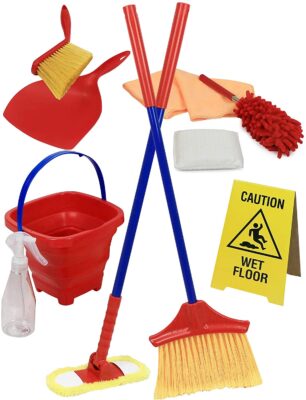 Save up to 40% off Click 'n Play Toys today! Choose from ball pits, imaginative play, and even a magic set! Remember when you were a child and sweeping the floor, dusting the shelves, and even pretending to mop were fun and games? With the Click N' Play deluxe cleaning playset, your children can sweep, mop, and dust with their very own Kids cleaning set, just like mom and dad! Sturdy construction: this kid cleaning set is constructed of tough and sturdy, heavy-duty, high quality plastic. This means that you need not worry about pieces from your cleaning cart for kids breaking or becoming hazardous to your children. Included are the cleaning supplies for kids to enjoy. This set will last safely for years of fun and enjoyment. Bpa free. Complete cleaning kit for kids: The Click N' Play deluxe cleaning playset contains a full range of cleaning supplies for kids, including a toy broom, functional Water bucket, two cleaning agent bottles (empty; there are no toxic chemicals), duster, "wet floor" Sign, brush, dustpan and mop for kids. The broom, brush and duster have actual bristles for realistic functionality, meaning while your child plays with these cleaning toys for kids, he or she can actually have fun helping out while you take care of your household duties, great toy For learning at home. The Click N' Play deluxe cleaning playset is great for any child aged 3 and up, and will provide hours of play housecleaning fun! Today only, snag this Click N' Play Pretend Play Housekeeping Cleaning Set for Kids, Includes Broom Dustpan Duster Mop Collapsible Bucket Sponge & More (Set of 10) for only $19.99. 
Cleaning Set for Kids – This deluxe cleaning play set contains a full range of cleaning and housekeeping supplies including a functional water bucket, cleaning agent bottles, broom, mop, duster, "Caution Wet Floor" sign, brush and dust pan.

Realistic Tools – The broom, brush and duster come with actual bristles that look and feel just like Mom & Dad's!

Build Skills – This cleaning set can help children develop hands-on skills and confidence by imitating cleaning activities while also strengthening and reinforcing a child's sense of responsibility.

Great Gift Idea – This cleaning set is a great pretend play item for preschoolers/ toddlers (ages 3 years & up), and makes the perfect gift for birthdays, holidays, and any other special occasion!

Encourage Imagination & Role-Playing Fun – Pretend imaginative play sets can help develop children's imaginary cognitive skills.

High-quality -These functional, high-quality tools are made of safe, kid-friendly material built to last for years. Meets all USA standard requirements.
This post contains affiliate links.