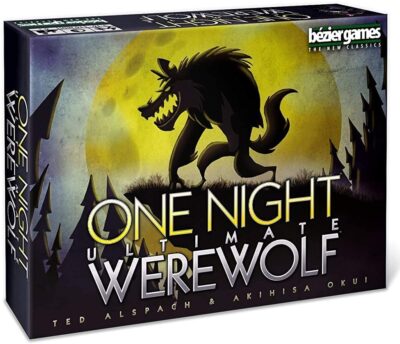 Today only, save up to 40% off board games from Thames & Kosmos, Gamewright, and more. Choose from popular titles like Forbidden Island, EXIT, and Sabateur. One Night Ultimate Werewolf has so few rules, everyone will be up and playing in just minutes. Each player is given a single card, which they secretly view, giving them a special power to help the Villager or Werewolf team. Get Bezier Games One Night Ultimate Werewolf for only $16.99 today!
Each player gets a unique role: A Werewolf, Seer, Troublemaker, or another, all with special abilities

After a secret night phase that includes changing roles, players have just 5 minutes to find a Werewolf

Includes a free iOS/Android app that makes playing incredibly engaging and addictive

May be combined with One Night Ultimate Werewolf Daybreak and One Night Ultimate Vampire for epic battles

3 10 players, Ages 8 and up
This post contains affiliate links.