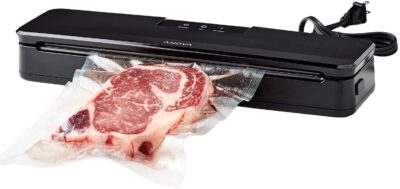 Whether you need a vacuum sealer for sous vide cooking or as a food storage solution, the Anova Precision Vacuum Sealer ensures your sous vide bags are sealed air tight every time – this means no risk of the bag opening during a cook or while frozen, no floating bags, and fully sealed in flavor. Click here to save up to 38% off Anova Sous Vide and Vacuum Sealer.
Simple to use straight out of the box, this sealer will vacuum and seal a bag at the touch of a single button. Additional modes include pulse, for more control over air extraction, or seal, for individually sealing ends of bags whether you're extracting air or not.
SEAL THE DEAL: Vacuum sealing is hands down the best way to ensure no air enters your bag during a sous vide cook – ensuring your food will stay fully submerged while cooking, and seal in maximum flavor. Additionally, the ability to seal, freeze, and store food for later makes prepping your meals in advance a breeze (Voltage: 110).

WHAT TO COOK: Sous vide cooking s the perfect level of doneness for nearly any food of your choosing. Chicken, fish, vegetables, eggs, beef, lamb, pork and more are all ideal candidates for sous vide circulation. The ability to lock in flavor and moisture during the cooking process results in texture and taste that is second to none.

POWER AT THE PUSH OF A BUTTON: The all-new Anova Precision Vacuum Sealer accessory is the perfect companion to our best selling line of Anova Precision Cookers, or any other sous vide circulator, making it easy to achieve restaurant-quality cooking results at home with the push of a button. The Anova vacuum sealer is reliable, compact, and simple to use compared to most other vacuum sealers on the market. It also ships with 10 free Anova pre-cut vacuum sealer bags to get you started!

EASY TO USE: Simply put your food of choice into an Anova pre-cut or rolled vacuum sealer bag, season as desired, insert opened end of bag to Anova Precision Vacuum Sealer, then remove air and seal the bag with the press of a single button. Separate air pulse and seal functions are also included for your convenience.

CUSTOMER PROMISE: Designed in San Francisco, CA with a 5 year . Anova delivers thousands of sous vide recipes for free in the Anova App, created for cooks of every skill level by award-winning chefs and home cooks alike. The numbers speak for themselves – with over 60 million units sold to date and half a million #Anovafoodnerds worldwide, you could say people love cooking with Anova. Try it yourself and find out why with our 100-day money-back .

Material Type: Plastic
This post contains affiliate links.