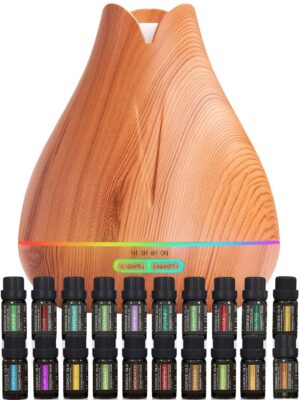 Click here to save up to 36% off Pure Daily Care Aromatherapy Diffusers. You can choose from three different options and the uses are truly endless! Boost Energy Respiration and Immunity with Peppermint and Spearmint Oils Add 5 drops of Peppermint oil and 5 drops of Spearmint oil for a mint blend to quickly heighten mental alertness. These plant oils have produce an aroma that can also relieve headaches and nausea. Get the Aromatherapy Essential Oil Diffuser Gift Set – 400ml Ultrasonic Diffuser with 20 Essential Plant Oils – 4 Timer & 7 Ambient Light Settings – Therapeutic Grade Essential Oils for only $33.96 today!
Premium Essence Diffuser – Our Essence Diffuser has a 400 ml capacity and uses state of the art wave diffusion technology to atomize essential oils for ultimate wellness. The Essence diffuser includes 7 ambient light modes with two intensity settings for 14 different light combinations. It also includes 4 timer settings and a convenient auto shutoff feature for low water levels. Essence is made of BPA free plastic with a beautiful printed wood grain design.

Ancient Therapies Delivered As Intended By Nature – Our essential oils are formulated using high quality plants sourced from various regions of the world, such as lavender from France and Tea Tree from Australia. Our modern heat-less diffuser delivers the therapeutic properties of these plant oils as nature intended by using modern ultrasonic waves to atomize the oils instead of burning them with heat. Our oils do not include any additives or cheap filler oils.

Top 20 Essential Plant Oils – Our 20 oils included are lavender, eucalyptus, tea tree, orange, peppermint, lemongrass, jasmine, nutmeg, clove, spearmint, Frankincense, Cinnamon, Lemon, Sandalwood, Ylang Ylang, Clary Sage, Grapefruit, Bergamot, Rosemary, and Juniper Berry.

No Additives or Fillers – Absolutely zero cheap additives or fillers are used in creating our oils. We use local harvest (when possible).It takes longer but is better for the environment and creates a better essential oil. We employ a variety of extraction processes such as steam distillation and cold press depending on plant harvested.

What's in the Box – 1 400ml ultrasonic essence diffuser, 10ml lavender essential oil, 10ml eucalyptus oil, 10ml tea tree oil, 10ml orange oil, 10ml peppermint oil, 10ml lemongrass oil, 10ml jasmine oil, 10ml essential oil, 10ml clove oil, 10ml spearmint oil, 10ml Frankincense oil, 10ml Cinnamon oil, 10ml Lemon oil, 10ml Sandalwood oil, 10ml Ylang Ylang oil, 10ml Clary Sage oil, 10ml Grapefruit oil, 10ml Bergamot oil, 10ml Rosemary oil, 10ml Juniper Berry oil, power cable, and manual.
This post contains affiliate links.