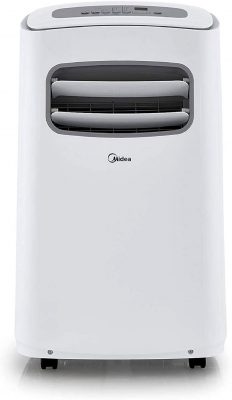 Improve the air flow for fall with Today's Deal: Click here to save up to 36% off Midea Portable Air Conditioners and Dehumidifier. The air conditioner features four wheels for easy portability from room to room. Just roll the AC to your preferred cooling area and don't worry about heavy lifting. Access your settings with an easy-to-read digital LED display: oscillation, sleep mode, timer, fan speed, operation mode (cooling, dehumidification, fan), and temperature settings. You can also use the remote control to adjust the temperature, operation mode as well as the LED background light on the panel to avoid any light disturbance. The Midea Smart 3-in-1 Portable Air Conditioner, Dehumidifier, Fan for Medium Rooms up to 275 sq ft 12,000 BTU (6,500 BTU SACC) control with Remote, Smartphone or Alexa is only $295.99.
SmartCool: The Midea Portable Air Conditioner, ASHRAE rating 12, 000 BTU (6500 BTU 2017 SACC standard) delivers fast, effective cooling for spaces Up to 275 sq. ft while simultaneously providing fan and dehumidification functions in any home, bedroom, office or cabin; creating a relaxing and comfortable environment.

WIFI Enabled & Voice Control: Control your portable AC from anywhere using our smartphone app. Switch modes, set a schedule, and more. Pairing your AC with Alexa or with Google Assistant, the unit will respond to voice commands, keeping your home cool and comfortable.

EFFORTLESS OPERATION:Enjoy the simplicity and comfort of digital controls. The portable AC features an easy-to-read LED display and includes a compact remote control (batteries included) to easily set the time, temperature, and mode, from across the room. Its 24-hour adjustable timer can cool a room to a temperature between 62°F-90°F and has 3 modes to choose from – cooling, dehumidification, fan only.

EASY INSTALLATION:Roll your air conditioner to the preferred cooling area, attach the 5ft hose and adjustable window brackets (fits openings from 26. 5-48"), turn the unit on and let your cooling begin! An exhaust hose and window kit are included, no extra tools are needed for assembly. Installation instructions are simple and can be done by anyone.

WASHABLE AIR FILTER:To provide clean cool air, we designed a removable and reusable air filter to protect your family and living space from dust and pet hairs. We recommend you clean the filter every week of operation in order to extend the life and performance of this unit.
This post contains affiliate links.