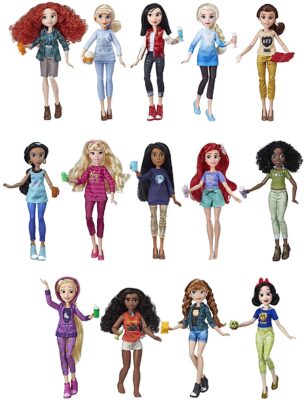 Click here to save up to 36% off Disney Toys and Apparel. Inspired by the Princesses from Disney's "Ralph Breaks the Internet" movie, these dolls are dressed in casual, comfy outfits with fun, modern-day accessories. This pack of 14 fashion dolls makes the ultimate gift for kids who love Disney movies. All of the dolls rock cute outfits that include removable bottoms and tops and have soft rooted hair, ranging from curly to straight, red hair, black hair, blonde hair, and brunette hair. Most of the dolls come with removable pairs of shoes, from wedges to high-top sneakers to clogs. These Disney dolls also come with movie-inspired accessories, including fun pretend snacks, headbands, and more. This 14-pack of dolls is a great start to a collection of Disney Princess dolls with a fun twist, inspired by Disney's "Ralph Breaks the Internet" movie. Get this Disney Princess Ralph Breaks The Internet Movie Dolls with Comfy Clothes & Accessories, 14 Doll Ultimate Multipack for $139.99 today. 
Fashion dolls inspired by Disney movie: Disney Princess dolls inspired by Disney's "Ralph breaks the Internet" Movie

14-Pack of dolls with clothes: includes Anna, Ariel, Aurora, Belle, Cinderella, Elsa, Jasmine, Merida, Moana, Mulan, Pocahontas, Rapunzel, snow white, and Tiana, in comfy casual outfits

Fun, fashion accessories and removable shoes: Disney dolls include 14 outfits, 12 pairs of shoes, and 20 movie-inspired accessories

Imagine a party with your favorite Disney dolls: kids will have lots of fun at a party with these Disney Princess Ralph breaks the Internet dolls

Add to your Disney doll collection: kids can add to their Disney doll collection with this fun twist on their favorite Disney Princess characters
This post contains affiliate links.