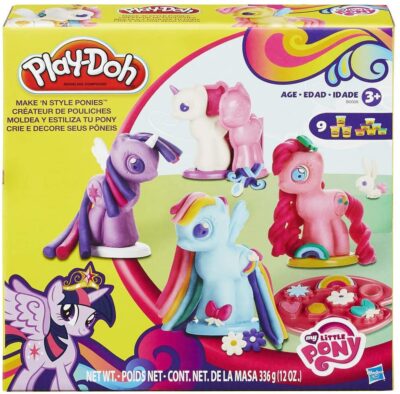 Click here to save up to 35% off Play Doh! Choose from classic sandwich sets and favorite characters for all the kids on your list! Make your own Ponyville world at home! With a rainbow of 9 Play-Doh colors, you can create all kinds of My Little Pony friends including Earth ponies, Pegasus ponies, Unicorns and Princess ponies. Create favorite characters from the hit cartoon including Princess Twilight Sparkle, Rarity, Rainbow Dash, and more! Use the 4 pony bases and book-molds to shape your ponies, then give them beautiful rainbow manes with the extruder. Make your ponies uniquely you with cutie marks and other accessories. Click here for Play-Doh My Little Pony Make 'n Style Ponies, only $6.99 today!
Play-Doh play lets kids take the lid off their imaginations and explore their creativity can packs and basic tool sets offer all kinds of open-ended play. Playsets come in many different themes and offer lots of creative role play

Make the cast from My Little Pony friendship is magic series or customize your own

4 molds to create Each type of Pony: earth, Pegasus, unicorns and princesses

A rainbow of 9 colors lets you get creative with your favorite ponies

Make Cutie marks, rainbow manes and tails and more with the half-mold palette

4 Pony bases, Pony book-mold, 2-Piece extruder, half-mold palette and 9 cans of Play-Doh brand Modeling compound

Make the cast from My Little Pony Friendship is Magic series or customize your own
This post contains affiliate links.