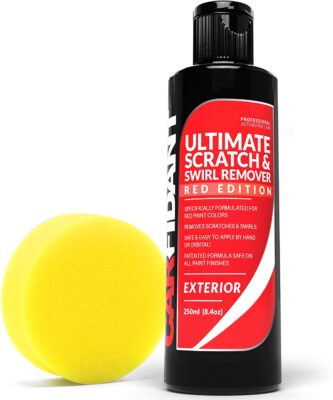 Get your car Spring-ready with Today's Deal: Save up to Up to 35% off Carfidant Automotive Supplies. About Ultimate Scratch & Swirl Remover Our Scratch & Swirl Remover is designed to save your car from small scratches, swirls and other marks that come at the hands of careless people and the environment! It is easy to use and can be applied by hand or with an orbital. (It is designed to work on small scratches, if you can feel the scratch while running a fingernail through it, it may be too deep.) Get this Carfidant Red Car Scratch Remover – Ultimate Scratch and Swirl Remover for Red Color Paints – Polish & Paint Restorer – Easily Repair Paint Scratches, Scratches, Water Spots! Car Buffer Kit for only $15.96. 
RED PAINT SCRATCH REPAIR – Our Ultimate Red Edition Car Paint Scratch Repair Kit is specifically formulated to be used on red colored paints. You can safely use it on any clearcoat, single stage, or multi stage paint!

EASY SCRATCH & SWIRL REPAIR – If your car has light scratches, swirls, or other marks – you can easily fix that with our Scratch & Swirl Remover Kit! Using the included buffer pad, our specially formulated compound will allow you to easily remove and "erase" years of wear and tear from your vehicles paint and overall appearance! (Please note if you have very deep scratches that can be easily felt with the tip of your fingernail the product may not help as much.)

ULTIMATE PAINT RESTORER – Not only will this remove swirls and scratches, it will restore the gloss and shine of your paint and bring it back to its original brilliance! The special rubbing compound will remove water spots, oxidation and other contaminants from your paint! Easily buff it all out by hand with our included buffer pad!

PREMIUM CHEMICALS – We formulate all our products to ensure they are the best! Professional grade, but easy enough for anyone to use! We use only the absolute best chemicals and ensure there are no unnecessary color dyes or scents! You get the best cutting polishing compound in a specifically formulated formula with a kit that lets you go right to work!

MADE IN USA – CARFIDANT 100% SATISFACTION – Don't take our word that this is the best in car detailing products and car cleaning supplies, if you are not 100% satisfied we will refund you in full! We are professionals! We are enthusiasts! We spent years developing our professional automotive detailing products and believe in them 100%! We use them. Our friends use them. If you are not 100% satisfied with any of our products, we will give you a full refund! Send us a message!
Remember, Amazon prices can change at any time.
This post contains affiliate links.