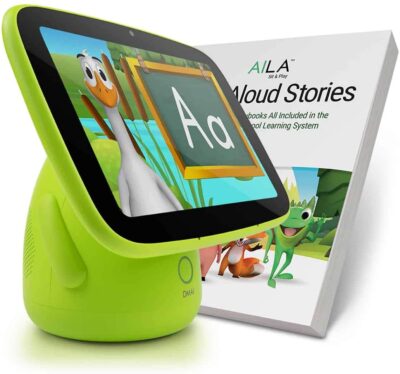 Click here to snag ANIMAL ISLAND AILA Sit & Play Plus Preschool Learning and Reading System Essential for Toddlers 12-36 Months, 60 Storybooks, Letters, Numbers, Vocabulary Words, Songs Best Baby Gift Mom's Choice Gold for only $151.20. That's a savings of nearly $80! Teach your preschooler at home with up to 34% off ANIMAL ISLAND Preschool Learning and Reading! 
EARLY PRESCHOOL ESSENTIALS: The Animal Island Learning Adventure AILA Sit & Play Plus includes both the AILA Sit & Play and the Read Aloud Stories Book (bonus item) containing a library of 60 storybooks included in the AILA Preschool Learning System. Made for toddlers 12-36 months. Developed and curated by educators and innovators, AILA delivers high-quality preschool content for early learning when it matters the most. It's hands-free, ad-free and subscription-free with free updates.

60 STORYBOOKS: AILA teaches over 60 stories to your toddler on the AILA Sit & Play. Parents can continue the offline learning to instill the love of reading using the Read Aloud Stories Book that includes 60 of the stories from AILA. With unique hardware, AI software and exclusive content, an educational tool for parents to train their child's attention span and to support cognitive development, literacy, numeracy, and social / emotional skills during a child's critical first years of learning.

MOM & DAD'S BEST HELPER: Engaging and fun content blended automatically for a toddler to sing along, dance, and learn ABC's, 123's, colors, shapes, words, stories (over 60 storybooks) and music (over 25 classic sing-alongs and 20 lullabies) together with their animal friends in the virtual preschool on Animal Island Learning Adventure so that parents have the peace of mind. AILA keeps track of the curriculum milestones and delivers the right content at the right time.

SIMPLE TO USE: AILA For Parents mobile app lets parents manage the 3 learning modes with curated playlists (Broadcast for exposure, Learning Session for personalized learning and Lullaby for quiet time), check in on their toddler (phone based monitor), send photos and videos, and monitor screen time.

BEST TODDLER GIFT: Start their learning journey with AILA Sit & Play Plus Preschool Learning and Reading System to prepare for preschool. Perfect for home us or daycare use. *In some shipments, the Read Aloud Stories book is packed inside the retail box.
This post contains affiliate links.