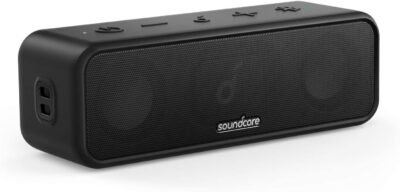 Pump up the sound with this Deal of the Day: Click here to save up to 32% off AnkerDirect Bluetooth Speakers. Soundcore creates audio products that spark emotions through music. This includes true wireless earbuds endorsed by GRAMMY-winning audio engineers and musicians, over-ear headphones, and Bluetooth speakers to amplify your listening experience. Soundcore is now available in more than 50 countries and regions, has over 20 million users, 181 licensed patents in the audio field, and has many exclusive technologies such as BassUp and PartyCast. Get this Soundcore 3 by Anker Soundcore, Bluetooth Speaker with Stereo Sound, Pure Titanium Diaphragm Drivers, PartyCast Technology, BassUp, 24H Playtime, IPX7 Waterproof, App, Custom EQ, Home, Outdoor, Beach only $26.99!
Incredible Sound Loved by 20 Million+ People

Upgraded Driver Technology: Soundcore 3 Bluetooth speaker has dual drivers with 100% pure titanium diaphragms that extend treble up to 40kHz and minimize distortion.

Enhanced Bass: Dual passive radiators and upgraded BassUp technology work in tandem to pump up the bass in real-time—even at low volumes.

16W Stereo Sound: Soundcore 3's stereo sound makes your music sound more immersive and pumps up the atmosphere in both indoors and outdoor spaces.

24-Hour Playtime: Soundcore 3 Bluetooth speaker is perfect for taking on days out or weekends away thanks to its ultra-long playtime that lets you listen to up to 480 songs on a single charge.
This post contains affiliate links.