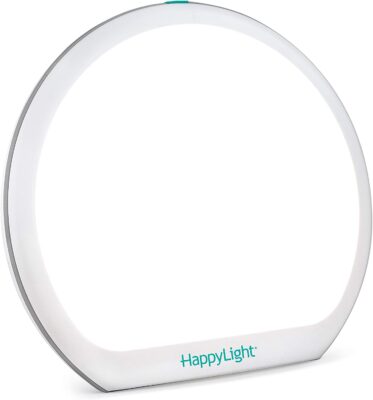 Click here to save up to 31% off Verilux Light Therapy and Floor Lamps! Sunlight is an essential ingredient for a healthy lifestyle, but many of us don't get the amount of daylight we need to feel its benefits. Our new HappyLight Alba light therapy lamp is customizable, giving you an experience as unique as you. Use it in your bedroom, bathroom, kitchen, or office, so you can always feel your best, no matter where you are. Get this Verilux® HappyLight® Alba – New Round UV-Free LED Therapy Lamp, Bright White Light with 10,000 Lux, Adjustable Brightness, Color, and Countdown Timer, only $35.60 today. 
UV-FREE, LED, FULL SPECTRUM LIGHT – Our newest light therapy lamp that delivers up to 10,000 lux for effective, safe, and natural light therapy

PERSONALIZED SETTINGS – Customize your experience with 4 brightness levels, 3 HappyHue color temperature options, and a convenient countdown timer that is programmable up to 1 hour, in 10 minute increments

IMPROVE SLEEP, MOOD, FOCUS, ENERGY – Bright light therapy improves sleep, boosts mood, increases energy, and enhances focus, leaving you feeling revitalized

PORTABLE & PRACTICAL – The new compact design makes HappyLight Alba your perfect companion at home for use in the bathroom, kitchen, desk, or bedside, and on-the-go, making it perfect for helping the winter blues, insomnia, sunlight deprivation, shift work, office employees, and seniors

LIFE IN A BETTER LIGHT – With over 60 years in healthy lighting and the creator of the original HappyLight, our US-based team is here for you with live support and a 3-year warranty
This post contains affiliate links.