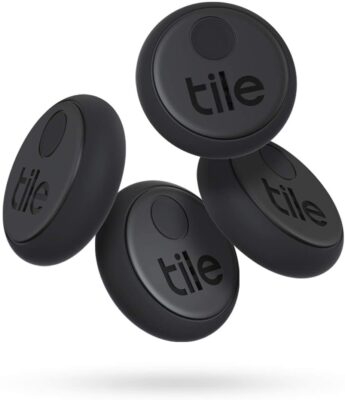 This product is so smart! Today only, save up to 30% off Tile Bluetooth Trackers! Tile Sticker easily and discreetly attaches to remotes and other electronic devices, outdoor recreational equipment and travel gear, and any other smaller item that you want to track for a long time. You'll gain peace of mind knowing you can open the free Tile app and tap Find to locate your stuff. Tile requires installation of the Tile App on iOS or Android, registration for a Tile account and acceptance of Tile's Privacy Policy and Terms of Service (available at Tile.com). Payment required to access additional Premium services. Get the Tile Sticker (2020) 4-pack – Small, Adhesive Bluetooth Tracker, Item Locator and Finder for Remotes, Headphones, Gadgets and More; Waterproof with 3 Year Battery Life for $36.99.
FIND REMOTES, GADGETS AND MORE: Tile Sticker features an adhesive back, making it easy to stick onto your remote control or other gadgets. This finder and free app work with iOS and Android. Keep track of more for less or give them as a gifeet

FIND NEARBY: Use the Tile app to ring your Tile Sticker when it's within 150 feet

FIND FAR AWAY: When outside of Bluetooth range, use the Tile app to view your Tile's most recent location or enlist the safe and anonymous help of the Tile Network

FIND YOUR PHONE: Use your Tile to find your phone, even when it's on silent

UPGRADE YOUR FINDING EXPERIENCE: Subscribe to Premium or Premium Protect for proactive finding features and enhanced services including Item Reimbursement, Smart Alerts, and Free Battery Replacement
This post contains affiliate links.