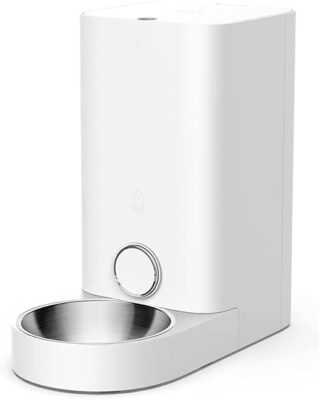 Looking to add some technology to your pet care routine? Today's deal is for you! Click here to save up to 30% off PETKIT Pet Smart Products. Choose from the best pet-care tech available including self-cleaning litter boxes, watering fountains, and auto-feeders. Get this PETKIT Automatic Cat Puppy Feeder with Stainless Steel Bowl, App Control, 10 Portions,10 Meal Plans per Day, Low Food LED Indicator Pet Smart Feeder for Small Animals, Auto Pet Food Dispenser for only $79.99 today! 
Feed from your phone,your cat will not meow at 3am anymore (2.4GHz WIFI, pls.)

Personalized Pet Feeding: Meals can be dispensed from 1 portion to 10 portion.Set meal plan, feed anytime

DUO FRESH LOCK SYSTEM : Keep the food dry and fresh.

Weight Sensor: You'll get notices when food bucket in low condition,and an alert when empty

Energy Backup: this PETKTI FEEDER will be operated with optional battery backup

2.8L
This post contains affiliate links.