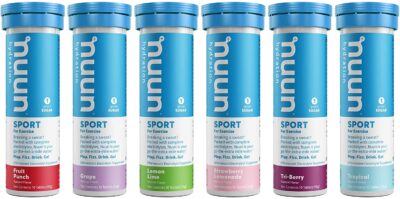 I have been really impressed with Nuun! Today only, save up to 30% off Nuun Sport electrolyte drink tablets. Nuun Sport was designed by athletes, for athletes. Nuun Hydration's flagship sports drink product is packed with complete electrolytes and made with clean ingredients that replace what is lost when you sweat during exercise. Finish your workout strong, hydrated and replenished. Get the Nuun Sport: Electrolyte Drink Tablets, Keto-Friendly, Variety Pack, (60 Servings), 10 Count (Pack of 6) for only $22.54 today!
HIGH ELECTROLYTES – Sports Drink Tablets bursting with a natural, low-calorie fruity flavor. Mix with water for a hydrating beverage to keep you powering through your next workout.

ENHANCE YOUR WORKOUT – and/or your work day naturally through improved hydration. Keep a tube in your gym bag, car, purse, hiking pack or anywhere you'll want to mix up a healthy, replenishing drink.

NO ARTIFICIAL FLAVORING OR SWEETENERS – (sweetened with high-quality Stevia only) and are keto-friendly. Nuun Sport is designed with Complete Electrolytes and Non-GMO ingredients for clean, guilt-free hydration.

We've had some work done! At first look, you'll notice Nuun Sport's snazzy packaging makeover. We hope that our new look will help to better identify the Nuun product that's right for you!

Box Contains – Lemon Lime, Strawberry Lemonade, Fruit Punch, Grape, Tropical and Tri-Berry. Six tubes and 60 servings total.

During the summer months products may arrive warm but Amazon stores and ships products in accordance with manufacturers' recommendations, when provided.
This post contains affiliate links.