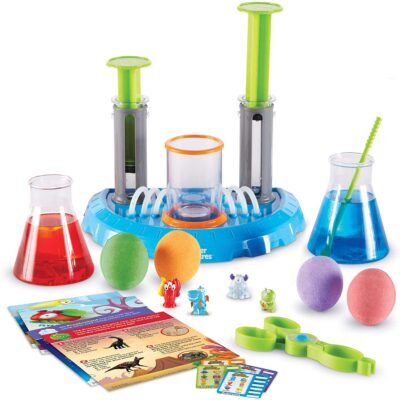 Save up to 30% off Learning Toys from Learning Resources, Educational Insights and more! You'll even find some fun Easter Basket Stuffers here! Extract the Beaker Creatures from the mysterious Reactor Pods with the Beaker Creatures Liquid Reactor Super Lab. The working lab set also comes with the equipment and instructions needed to perform amazing real-world STEM science experiments inspired by the creatures and their home planets. Click here to get the Learning Resources Beaker Creatures Deluxe Liquid Reactor Super Lab, 21 Piece Set with 4 Creatures, STEM Science Toy, Ages 5+, Multicolor (LSP8586-AMZ) for $19.69. 
It's a colorful bubbling creature Reaction! Extract your beaker creatures from their mysterious reactor pods with the beaker creatures liquid reactor Super lab!

Discover: place your reactor Pod in the chamber, pour in some water, and spin the lever to trigger a bubbling Reaction and reveal one of 65 beaker creatures!

Experiment: the lab doubles as a working science set, complete with amazing hands-on experiments inspired by the beaker creatures and their worlds

Collect: there are 35 mysterious beaker creatures to find and collect, including the limited edition 24-carat creatures!

21-Piece set: includes Super lab, 4 reactor pods with mystery beaker creatures, 4 classification cards, 4 mini-posters, experiment guide, and full-size poster – ages 5+
This post contains affiliate links.