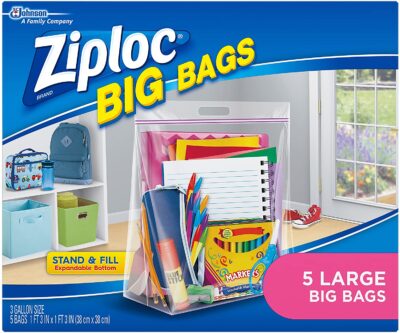 Click here to save up to 30% off Household supplies from Ziploc, Mrs. Meyer's and more. Get more out of the space in your home with Ziploc brand Big Bags. They're the biggest, strongest, most versatile Ziploc brand Bags ever created. Use them to store clothing, bedding, holiday decorations, sports equipment and more. No more clutter in the garage, the basement or the closet. These Ziploc Storage Bags, Double Zipper Seal & Expandable Bottom, Large, 5 Count, Big Bag are only $6.10! 
Pleated bottom and secure Double Zipper Seal

Flexible, heavy-duty plastic

Convenient built-in handles

Protection from moisture, dust and pests

Natural, flexible shape of a bag
This post contains affiliate links.