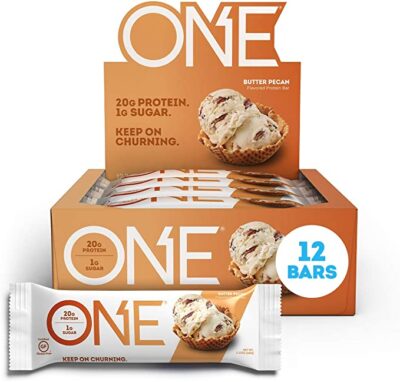 YOU'VE FOUND THE ONE. Today only, save up to 30% off healthy snacks from One protein bars, Skinny Pop and more! When it comes to snacking, we're all entitled to the perfect match. With 20 grams of protein, only 1 gram of sugar and totally indulgent flavors that seem too good to be true, your days of playing the field are officially over! Powerfully Delicious, Guilt-Free Indulgence. Congratulations, You've Found the ONE. These delicious looking ONE 1 Protein Bars, Butter Pecan, Gluten Free Protein Bars with 20g Protein and only 1g Sugar, Guilt-Free Snacking for High Protein Diets, 2.12 Ounce (12 Count) are only $17.49 today!
GLUTEN-FREE PROTEIN BARS: You don't have to choose between the flavor you want and the nutrition you need with these delicious Gluten-Free protein bars because let's be real – life's too short for anything boring, tasteless, or worse, chalky Stressful day? Pre-workout snack? Late for work? Grab your ONE protein bar You've saved room for dessert

HIGH PROTEIN, JUST 1G SUGAR, ALL OMG TASTE: Whichever ONE bar flavor you grab, from Birthday Cake to Peanut Butter Cup, you'll be getting 20g of protein, 1g of sugar and all OMG taste Our gluten-free snack bars are a perfect high protein snack when your energy is low

TOO GOOD TO BE TRUE SNACKING: At ONE Brands, we believe that great taste and good health are not mutually exclusive, which is why we created the ONE Protein Bar High protein, just 1 gram of sugar and highly indulgent flavor make this protein bar the one you'll keep eating

ONE PROTEIN BAR IS THE ONE: Taste ONE to Believe ONE and take the taste challenge against other competitor brands

THE ONE PROTEIN BAR: Congratulations, You've Found the ONE Protein bar, that is Our Gluten-Free Butter Pecan protein bar is more than just the delicious taste of your ice cream shop favorite, it's packed with 20 grams of protein and just 1 gram of sugar This is ice cream done as nice cream, no cup or cone required
This post contains affiliate links.