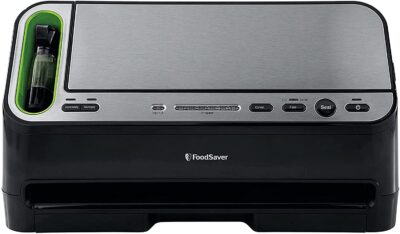 The FoodSaver 4440 2-in-1 Automatic Vacuum Sealing System helps keep food fresh longer. The system removes air, one of the main causes of mold and food spoilage, from bags and creates an airtight seal to lock in freshness. One FoodSaver 2-in-1 appliance does it all: automatic bag detection and vacuum sealing mean two quick and easy steps to seal and save, and the built-in handheld sealer eliminates the need for additional attachments when sealing zipper bags and containers. Click here to save up to 30% off Foodsaver Vacuum Sealers.
Save Money and seal freshness in: Meat preserved with the FoodSaver system in the freezer can last up to 3 years and still taste fresh, flavorful, and freezer burn free; Prep ahead meals, leftovers, and produce stored in the fridge will stay fresh up to weeks later instead of spoiling in days

Automatic bag detection: Automatic bag detection makes vacuum sealing easier than ever: Simply put the bag in the vacuum chamber and the machine does the rest to ensure your food stays fresh and flavorful

Simple to use: Built in roll storage and cutter lets you easily make custom sized bags to fit whatever you seal, while led light indicators easily guide you through the vacuum sealing process

Very consistent sealing: Guaranteed to reach an optimal vacuum level and airtight seal; The V4440 is durable, high quality, and backed by a 5 year limited warranty

Automatic moisture detection: Smart technology automatically detects moisture and switches to the correct mode to ensure an airtight seal is achieved. The patented removable drip tray will catch any overflow liquid and is dishwasher safe, making this kitchen appliance easy to clean and maintain

NRTL Tested & Certified Product: All Foodsaver appliances are ETL or UL certified by Nationally Recognized Test Laboratories (NRTLs) for compliance with applicable Product safety test standards; Safety is our number 1 priority

Compatibility: Works with FoodSaver 8 inches and 11 inches vacuum seal rolls, all pre made bag sizes, freshsaver zipper bags, fresh containers, and quick Marinator; Optional accessories include FoodSaver regular and wide mouth mason jar sealers and FoodSaver bottle stoppers for wine and oil bottles
This post contains affiliate links.