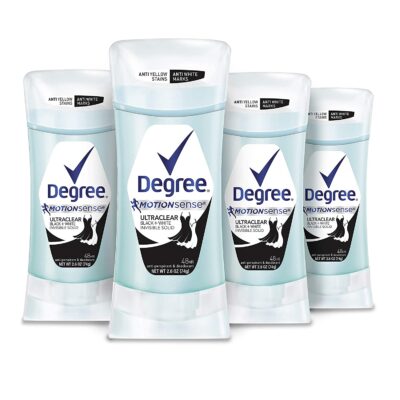 Save up to 30% off deodorants, bath and shower gels from Dove, Degree and more. Degree UltraClear Black+White antiperspirant deodorant comes in a 2.6 oz, 4-Pack bulk deodorant. This will be your new favorite go to women's deodorant for everyday use. With no white marks on black clothes and no yellow stains on white clothes, you'll look great and feel confident that you're protected from deodorant stains, sweat and body odor. Degree antiperspirant deodorant UltraClear Black+White has a breakthrough formula that cuts down on the stains that some other antiperspirants leave behind when they mix sweat and natural oils produced by your body. For a women's fragrance, expect a fresh and airy fragrance with a clean feel. This deodorant for women is the perfect way to start your day, and also for those moments throughout your day when you may need freshening up. Click here for the Degree UltraClear Antiperspirant for Women Protects from Deodorant Stains Black+White Deodorant for Women 2.6 oz 4 Count, only $12.52.
Degree's UltraClear Black+White antiperspirant deodorant stick lasts for 48 hours and protects against white marks and yellow stains, making it one of Degree best deodorant for women

This antiperspirant for women gives you a fresh and airy fragrance with a clean feel. With 48H non-stop protection, non-stop confidence, this is why it's one of Degree's best smelling deo for women

Unique MotionSense technology in this deodorant that keeps you fresher the more you move. It's filled with smart capsules that respond to motion. When you move, these capsules burst with fragrance

This antiperspirant for women is designed to be the best deodorant for any sport, fitness class or alternative forms of movement. This anti perspirant also protects against deodorant stains

Degree' best deodorant for women is known to give you the ultimate freshness that's activated when you move, however you move

At Degree, we want to inspire the confidence in everyone to move more. We're here to support and share your journey through an antiperspirant deodorant that moves with you
This post contains affiliate links.