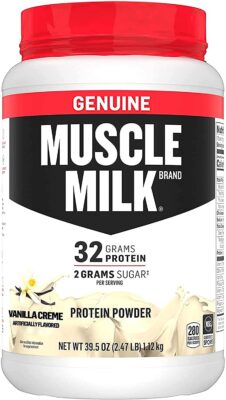 Get ready for a healthy New Year with Today's Deals! Click here to save up to 30% off Cellucor, Muscle Milk, Garden of Life and more. Muscle Milk Protein Powder is an excellent source of protein and essential nutrients to help fuel recovery from exercise and help build muscle. This easy-to-mix powder can be added to supplement shakes, smoothies and favorite recipes. Muscle Milk Protein Powders can be used pre-workout, post-workout or as an anytime protein-rich meal option or snack. This Muscle Milk Genuine Protein Powder, Vanilla Crème, 32g Protein, 2.47 Pound, 16 Servings is only $16 today. 
Contains one 2.47 pounds cannister (about 16 servings) of Muscle Milk Genuine Protein Powder, packaging may vary.

32 grams of protein per serving to help support muscle rebuilding, muscle growth, and maintenance of muscle mass.

Combination of high-quality slow releasing and fast releasing proteins provide a more sustained delivery of protein compared to whey alone.

Excellent source of Calcium and Vitamins A, C, & D.

2 grams of fiber per serving.

Essential amino acids, including Leaucine, play a role in muscle growth.

Uses: helps rebuild muscle, post-workout recovery, anytime snack, on-the-go-breakfast, helps satisfy hunger, energizing.

Tested for banned substances. NSF Certified for Sport. NSF Screens for more than 200 substances banned by most major athletic organizations.
This post contains affiliate links.